Patient Information Publications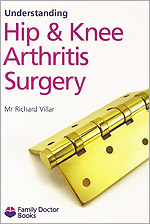 Richard Villar has written several books for patients, in order to provide an overview of hip and knee problems and the operations available to treat them. Two very popular books were "Hip Replacement: a patient's guide" (Thorsons, June 1995) and "Knee Problems" (Thorsons, June 1996).

However, perhaps the most popular, and now in its third edition, is "Understanding Hip & Knee Arthritis Surgery" (Family Doctor Books, see below). This may be obtained from most good bookshops, from many pharmacists, or from the publisher.

Publisher:
Family Doctor Books, PO Box 4664, Poole, Dorset, BH15 1NN
ISBN-13: 978 1 903474 44 0
ISBN-10: 1 903474 44 2

General Interest Publications

Richard Villar has written extensively for the general interest market. His articles have appeared in the Daily Telegraph, The Spectator, the Evening Standard, British Medical Journal, Reader's Digest, Cambridge Evening News and elsewhere. He has also written a number of books.
Publisher: Vineyard Press Ltd, The Vineyard, Windmill Hill, Saffron Walden, CB10 1RR

---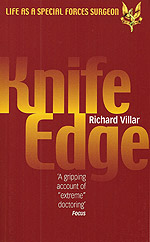 Knife Edge: Life as a Special Forces Surgeon.
ISBN-10: 0 9542203 0 7
This describes Richard's experiences as a surgeon to the British Special Air Service. Originally published by Michael Joseph and subsequently by Penguin, it is now published by the Vineyard Press and has been highly acclaimed.
£6.99 plus P&P £1.50 from The Villar Bajwa Practice.

---

Winged Scalpel
ASIN: B00BOP2OLS
In this fast paced narrative, ex-SAS surgeon Richard Villar provides 'a very personal insight into the difficulties, dangers and occasional virtual impossibility of providing medical aid to disaster areas and war zones.He shares his remarkable experiences in the aftermath of three major earthquakes - Kashmir (2005), Java (2006) and Haiti (2010) - as well as in the Libyan civil war (2011).
£19.99 plus P&P £1.50 from The Villar Bajwa Practice.