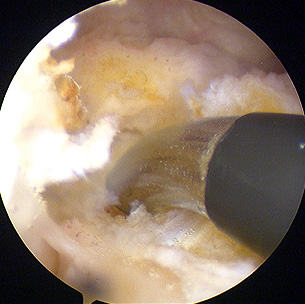 Radiofrequency probe in use at the back of the knee during arthroscopic PCL reconstruction.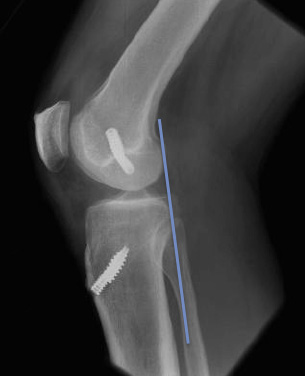 11-months post PCL/PLCLARS Reconstruction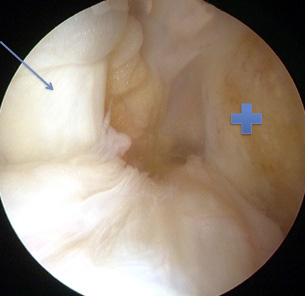 Normal PCL (blue arrow) and the torn ACL (+) from its attachment on the Femur
Posterior Cruciate ligament (PCL) is in the back of the knee and is a much bigger ligament than the ACL. It helps stabilize the knee and provides sense of joint position. It physically restrains the Tibia (leg bone) from sagging backward on Femur (thigh bone) in the knee joint.
It is often injured with a forceful blow on front of Tibia when the knee is in bent position. It may occur in sport as well as in in road traffic accidents. The athlete experiences severe pain, rapid onset of swelling and difficulty in weight bearing on the injured leg.
There is sometimes tracking of swelling in the back of the calf. Diagnosis of these injuries is often missed and can present late in the orthopaedic clinic with consequences of PCL injury including a displaced knee joint, which may exhibit multi-compartment arthritis. On late presentation the patient may have of anterior knee pain, fullness in the back of the knee or symptoms of frank arthritis.

The diagnosis is made clinically and confirmed on plain and stress radiographs (X-rays), and MRI scans. In acute injuries, especially with partial thickness tears, there is a role for non-operative treatment with correct splintage and rehabilitation. It must be noted that non-operative treatment does not mean 'No treatment'.
In patients with failure of non-operative treatment, full-thickness tears with gross subluaxation (partial dislocation) and those with late presentations, PCL reconstruction is undertaken. It is commonly undertaken arthroscopically (key hole surgery). The graft choices are the same as in ACL reconstruction.
However, very good results have been reported with synthetic augments such as LARS in acute injuries. We tend to favour LARS for acute injuries.