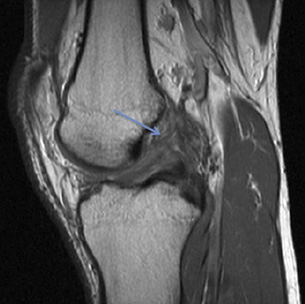 Torn ACL at the Femoral attachment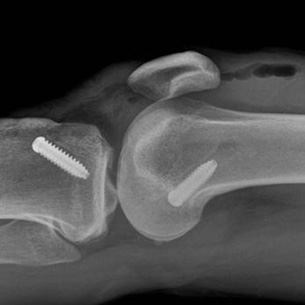 ACL reconstruction using 4-strand Hamstring Tendon graft fixed with screws at both ends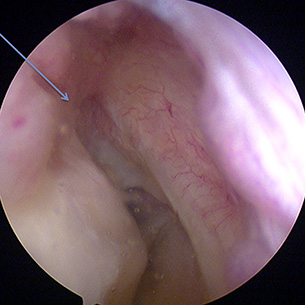 Empty Notch sign - seen arthroscopically after an ACL tear there is empty space at the site of ACL attachment to Femur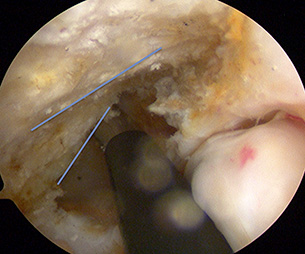 Right ACL Reconstruction - The blue lines are showing the resident's ridge on the top and true posterior limit of the notch (lower line). It is important to identify the true posterior border of notch to help correct placement of ACL reconstruction tunnels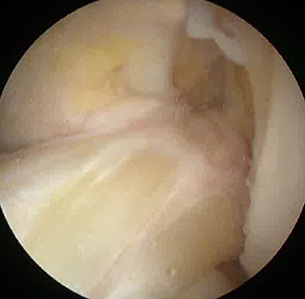 Dynamic testing of ACL at the time of arthroscopy
Anterior Cruciate Ligament is an important stabiliser of the knee joint. It provides a sense of position for the knee joint in addition to physical support that stops the Tibia (leg bone) to slide forward in relation to the Femur (thigh bone). It consists of two bundles and attaches between the Femur and Tibia.
It is often injured in sports when there is twisting force on the knee while the leg is straight and the foot is planted on ground. Different mechanisms of injury may cause the damage though. The athlete experiences pain, is usually unable to weight bear and there is fairly rapid onset of swelling in the knee. Occasionally the athlete hears and / or feels a pop.

The diagnosis is made on clinical examination and confirmed with MRI scan. A number of patients can cope with non-operative treatment. These are usually the low demand patients with very well developed thigh muscles.
The high demand athlete usually, but not always, requires an ACL reconstruction. This requires the use of a graft material that is sited in place of the native ACL. There are different types of grafts such as;

Autografts: These use patient's own tissues are used to reconstruct the ACL. Commonly used grafts include Hamstring Tendon grafts, Bone-Patella Tendon-Bone graft, and Quadriceps graft. We commonly use Hamstring Tendon graft, which many believe is the gold-standard. However, as and when when required we recourse to other grafts.

Allografts: These are borrowed biological materials from a donor subject. The commonly used graft in this groups is the Achilles' Tendon graft. We mainly use it in revision scenarios and where patient's own tissues are not available or not suitable for ACL reconstruction.
LARS (Ligament Augmentation and Reconstruction System)
LARS is a synthetic scaffold that is used to augment the repaired native soft tissue. Naturally it relies on the on ability and feasibility to repair the native torn ligament. The LARS ligaments were developed and used initially by the French and recently has seen a surge in use in the Australian Elite athletes. It has certain advantages as it, theoretically, allows quicker rehabilitation time since patient's own tissue are spared of surgical trauma. It has a place in a very selected population who fulfill the criteria, which includes a relatively recent injury and availability of a suitable native ligament stump to repair. We use LARS ligament in carefully selected patients. We do not believe in using a synthetic ligament in the absence of native biological tissue.